We have a few items for sale. All profits for these items go directly to help support the Museum.
CANADIAN STARFIGHTER MUSEUM and CANADIAN STARFIGHTER ASSOCIATION GOLF SHIRTS
(scroll down to view pictures)
Navy Blue Golf Shirt with CSM emblem embroidered on the left side.
11.oz. 50% cotton/50% dry blend polyester
Pre shrunk pique knit
Contoured welt collar
Colour matched buttons
Double needle sleeve and bottom hems
North American sizes: S, M, L, XL, 2XL
Price per shirt: $55.00 plus taxes + postage
" Add your given name embroidered on the right side for $ 6.00 extra "
* CANADIAN STARFIGHTER ASSOCIATION golf shirts available to " MEMBERS ONLY ".
Original CANADA/CF104 badge embroidered on the left side and your given name
in white script as an option on the right side for $6.00 extra. Also now available to CSA members
is the original CF104 name tag with your name. Add $12.00 for this feature.
Please click on the thumb nail pictures below the golf shirt photo for a close up look at the
CSM and CSA logos as well as the CF104 name tag.
BOOK Cold Warrior - The Story of a Starfighter Mission $15.00
Written by Jack Partington BGen CF (Ret)
The story of a CF-104 Starfighter Combat Profile Mission flown in West Germany
during the Cold War.
DECALS Canadian Starfighter Museum decal $ 2.50 OUT OF STOCK
Canadian Starfighter Association decal $ 2.50 OUT OF STOCK
CF-104 #12703 Profile Prints now Available !
To purchase any of these items please email Steve Pajot - karen1steve1@shaw.ca
Scroll down for pictures of the golf shirt, CSA / CSM embroidered logos, decals, Cold Warrior Book and
Official CSM CF-104 #12703 Profile Print.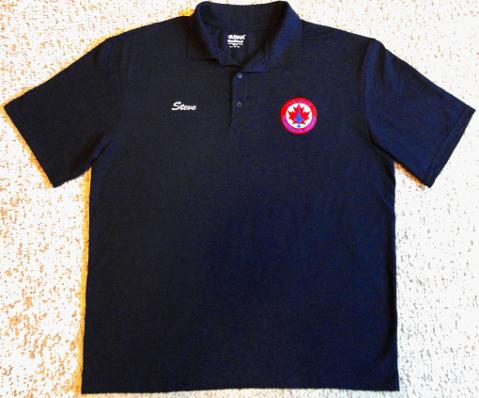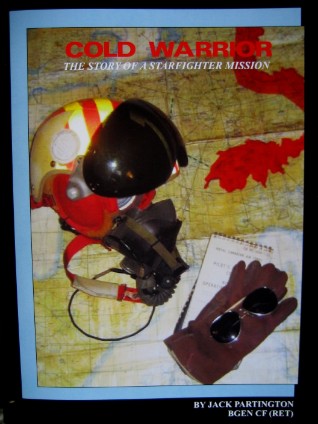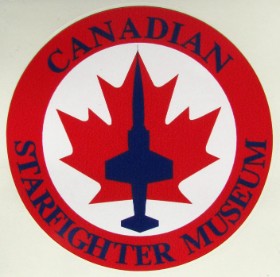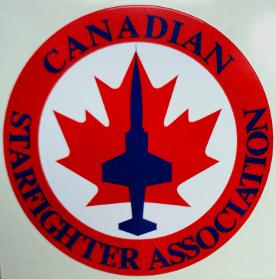 Featured below is the most accurate and detailed profile drawing yet of the CF-104 Starfighter. Drawn by artist
Brain Venables and commissioned by the Canadian Starfighter Museum to represent our CF-104 #12703 in both the Nuclear Strike and Photo Recce roles with the 1966 paint scheme as displayed at the museum.
Printed on 11 inch by 17 inch heavy quality paper. The print is available for the prices indicated below.
11" x 17" print $20.00 each
Shipping in Canada $20.00
Shipping tube $ 2.50
If you come out to visit the museum and call ahead we can arrange to have a print for you to take home which makes this profile much less expensive.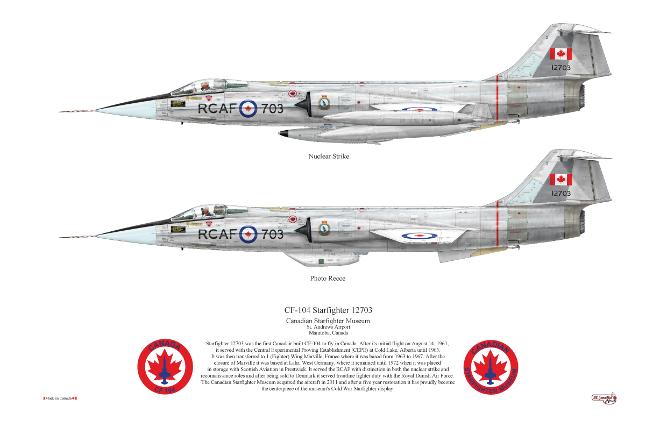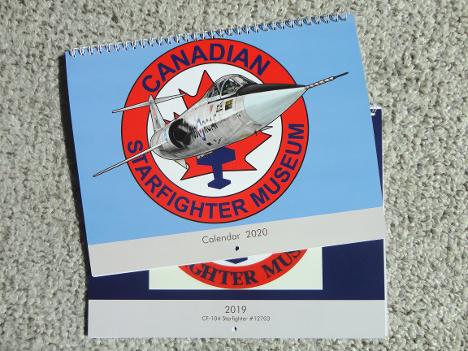 Canadian Starfighter Museum Calendar available usually be late October. We only make a limited quantity for sale so it's first come first served. The prices vary depending on the quantity printed and of course prices change from our supplier almost every year. They are typically in the $20 to $25 range plus shipping and handling. If you want to purchase one of the next years Calendar please email us at starfighter703@gmail.com before the end of October. Calendar size is 11" x 8 1/2" and feature photos taken by the museum of CF-104 Starfighter #12703 on the apron at St. Andrews Airport. Only the most current calendars are made available.